Luxe Living
Alright, fellow enthusiasts of the finer things in life, it's time to delve into the world of high-end properties. Today, we will examine the features that set these homes apart. At Williams Luxury Homes, we've had the pleasure of selling some of Greater Phoenix's most exquisite properties. We know what sets them apart, so we felt we'd share some of Arizona's more popular home features.
This blog is NOT going to be all fancy like some of our others. It's simply to share some of why we enjoy selling real estate in Arizona. These features and others, as well as building relationships with our clients, is why we LOVE what we do. In this business you must have PASSION.
Some Of Our Favorite Features Include:
Wine Cellars & Tasting Rooms
Indulge your passion for wine with a dedicated wine cellar or tasting room. Whether a connoisseur or a casual collector, your collection will be beautifully displayed and expertly preserved in this temperature-controlled environment.
Transform your movie nights into a cinematic experience with a state-of-the-art home theater. You'll feel right in action with immersive sound and crystal-clear picture quality. We at WLH know some of the most respected home theater builders locally. And yes, we will connect you.
Take your outdoor entertaining to the next level with a luxurious pool, hot tub, and outdoor kitchen. Perfect for hosting parties, family gatherings, or just lounging in the sun. And in Arizona, you can enjoy year-round outdoor living. Not to mention take in the stunning desert sunrises and sunsets.
(Cont.)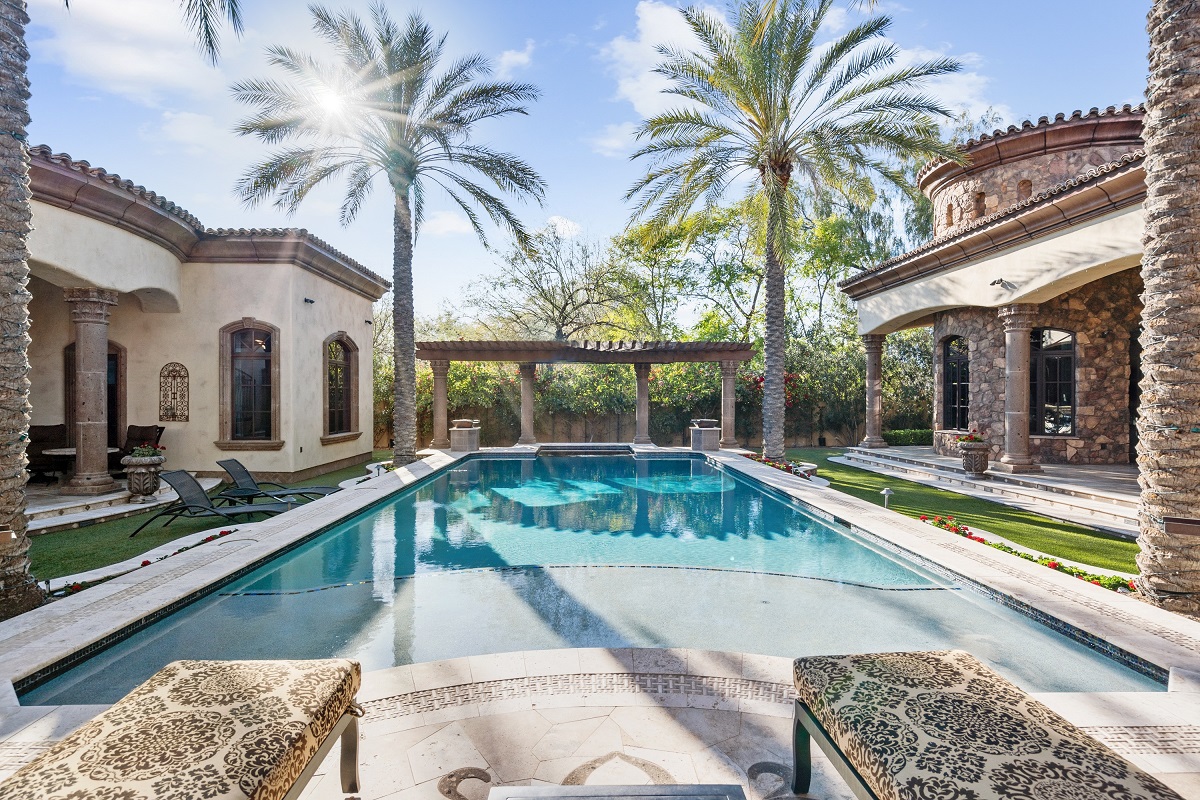 Unleash your inner chef in a well-appointed kitchen featuring high-end appliances, custom cabinetry, and granite countertops. Cook up a storm for your family or entertain guests with ease. And in Arizona, you can take it outside and eat it many nights of the year! Life is good here.
Take control of your home with the latest in integrated lighting and climate control systems, automated security, and entertainment. With tech startups flocking to the Phoenix area, you'll have access to the most cutting-edge smart home technology on the market.
Retreat to your ultimate sanctuary with a king-size bed, a spa-like bathroom with a soaking tub, and a walking closet. And in Arizona, you can wake up to the 'good-vibe' views of the mountains and desert landscape or the sparkling city lights enjoyed from your personal retreat.
We Hope You Enjoyed
We hope you've enjoyed this edition of LUXE BLOG. Williams Luxury Homes knows the high-end real estate market inside and out, and we're here to help you every step of the way. We've got you covered whether you want a home theater to marathon-watch your favorite shows, a gourmet kitchen to make delicious meals, or a luxurious master suite from which to relax. Let us know when you are ready. We will be here, enjoying the AZ life.
Also Read: Why Are Californians Moving To Arizona? For Many Reasons